Joe DiMaggio
1914-1999 "A ball players's got to be kept hungry to become a big-leaguer. That's why no boy from a rich family ever made the big leagues." - Joe DiMaggio
An American Classic
---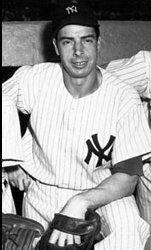 Wednesday, March 10, 1999
Joe DiMaggio, baseball Hall of Famer and American icon, died early Monday morning. He was 84.
DiMaggio, according to his friend and attorney Morris Engelberg, died at his home a little after midnight while surrounded by his family and friends.
In October, DiMaggio underwent lung cancer surgery and fought through complications for weeks after.
---



*Key dates in the life of Joe DiMaggio


November 25, 1914
-- Born Joseph Paul DiMaggio in Martinez, California.

April, 1932
-- Begins professional baseball career with the San Francisco Seals of the Pacific Coast League.

November 21, 1934
-- Purchased by New York Yankees from San Francisco Seals.
May 3, 1936
-- Collects three hits in major-league debut against the St. Louis Browns.

June 24, 1936
-- Ties three ML records in New York's 10-run fifth inning against the Chicago White Sox, hitting two HRs for eight total bases. With two doubles, he equals the modern record of four extra-base hits in a game, since broken.

June 13, 1937
-- Hits three homers in a game against the Browns in St. Louis.

July 9, 1937
-- Hits for the cycle against the Washington Senators at Yankee Stadium.
August 28, 1938
-- Ties a ML record with three triples in a game against St. Louis. No Yankee has had three triples in one game since.

November 6, 1938
-- Joins brothers Vince and Dom as the three DiMaggio brothers play together for the first time, making up an outfield for an all-star team in a West Coast charity game.

October 24, 1939
-- Voted American League Most Valuable Player with Jimmie Foxx the runner-up, in the BBWAA poll.

November 19, 1939
-- Marries actress Dorothy Arnold.

May 15, 1941
-- Singles once in four at-bats against Ed Smith of the Chicago White Sox to start his 56-game hitting streak.

June 17, 1941
-- Credited with a hit in his 30th consecutive game when an easy grounder to shortstop bounces up and hits Luke Appling on the shoulder.

June 29, 1941
-- Singles against Washington knuckleballer Dutch Leonard in the sixth inning in the opener of a doubleheader to tie George Sisler's AL consecutive-game hit record of 41. Collects a seventh-inning single off of Walt Masterson in the second game to set the record at 42 games.

July 1, 1941
-- Hits safely in both games of a doubleheader sweep of the Boston Red Sox to extend the streak to 44 games, tying "Wee" Willie Keeler's major-league record.

July 2, 1941
-- Homers off Boston's Dick Newsome to break Keeler's record.
July 17, 1941
-- The streak comes to a halt in Cleveland as Indians pitchers Al Smith and Jim Bagby, with the help of third baseman Ken Keltner, hold DiMaggio hitless.

November 27, 1941
-- Named AL MVP for the second time in his career as his 56-game hitting streak edges out Ted Williams and his .406 batting average by a margin of 291-254 in the voting.

Feburary 17, 1943
-- Enlists in the U.S. Army and spends the next two years playing for touring military teams.

November 27, 1947
-- Named the AL MVP for a third time, setting off a controversy. Edges Williams, the Triple Crown winner, by a single point as Williams is left off one ballot.

May 20, 1948
-- Hits for the cycle for the second time in his career at Chicago.

May 23, 1948
-- Hits three consecutive homers against Cleveland, two off future Hall of Famer Bob Feller.

February 7, 1949
-- Becomes the first player to earn six figures after signing a $100,000 contract.

March 2, 1949
-- Leaves spring training camp to have an ailing right heel examined at Johns Hopkins hospital.

June 28, 1949
-- Returns to action after missing the first 69 games of the season due to the heel injury and homers and singles in a 6-4 victory at Boston. Hits four homers in the three-game series.

June 21, 1950
-- Records his 2,000th hit, a seventh-inning single off Chick Pieretti of the Indians in an 8-2 victory.

August 11, 1950
-- Stuck in a 4-for-38 slump and batting just .279 on the year, DiMaggio is benched for the first time in his career.

September 10, 1950
-- Becomes the first player to hit three homers in one game at Washington's Griffith Stadium as the Yankees beat the Senators, 8-1.

July 8, 1951
-- Replaced in center field by Jackie Jensen in the second inning after a misplay in the first. The incident fuels a growing rift between DiMaggio and manager Casey Stengel which will ultimately lead to his retirement.

December 12, 1951
-- Officially retires at the age of 37 with 361 HRs and a career average of .325 in 13 seasons.

April, 1952
-- His uniform No. 5 is retired in a ceremony at Yankee Stadium.

January 14, 1954
-- Marries actress Marilyn Monroe

October 27, 1954
-- Marriage to Marilyn Monroe ends in divorce.

July, 1955
-- Inducted into the Baseball Hall of Fame.

June 8, 1969
-- A plaque is dedicated in his honor in Yankee Stadium's Monument Park.

September 27, 1998
-- Makes last appearance at Yankee Stadium on "Joe DiMaggio Day."

October 12, 1998
-- Admitted to Memorial Hospital in Hollywood, Florida.

March 8, 1999
-- Dies at the age of 84 in Hollywood, Florida.
*This information compiled by SportsTicker
---
"You look forward to it like a birthday party when you're a kid. You think something wonderful is going to happen."
- Joe DiMaggio, on Opening Day

"All pitchers are born pitchers."
- Joe DiMaggio

"The phrase 'off with the crack of the bat', while romantic, is really meaningless, since the outfielder should be in motion long before he hears the sound of the ball meeting the bat."
- Joe DiMaggio
---
More on Joe DiMaggio
[Ellis Island Medals of Honor]
[Where did you go, Joe DiMaggio?]
[Joe DiMaggio]
---